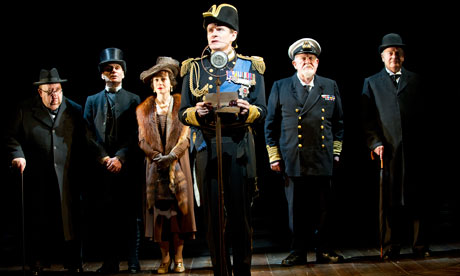 Those of you who actually read out reviews will know that we rather enjoyed The King's Speech at the Wyndham's Theatre. In fact, we gave it a meaty four stars in our recent review. It is a tad close to the film, but in reality you have to be pretty petty to see that as a problem – why shouldn't it be close to a film that won universal acclaim and four Oscars?!
So we're delighted to be able to promote a special ticket offer for this quintessentially British, feel-good production which is guaranteed to leave you feeling warm inside.
Before we go any further, this is honestly a very good offer. We're not being paid to say this and we don't get commission on each sale – in fact, there is nothing in this for us at all. It's just a good offer, and we'd suggest that you take advantage of it!
– The offer is valid for the performance on 25th April 2012 only.
– It includes a top price ticket (worth £52) and the opportunity to attend a one-off post-show Q&A.
– The post show Q&A will be with special guest Mark Logue (grandson of the real Lionel Logue), Charles Edwards (who plays King George VI, aka Bertie) and Jonathan Hyde (who plays Lionel Logue).
– It costs just £29.50.
– TO BOOK, YOU HAVE TO GO VIA

THIS LINK. 
For those of you who don't know who Lionel Logue is, he is one of the characters in this true story – the speech therapist who helps Bertie overcome his stutter. Mark Logue inherited letters from Lionel about his grandfather's relationship with Bertie, which David Seidler (playwright) was able to use in the final scripts of both the play and the film. 
That's about all we have to say. Take it or leave it, but you may not whinge to us if you don't see this show before it closes now.